Author: Tim Clay - Managing Director, Asahi UK
Date: 19 05 2021 00:00
---
Six reasons to feel optimistic about the near future for our sector
W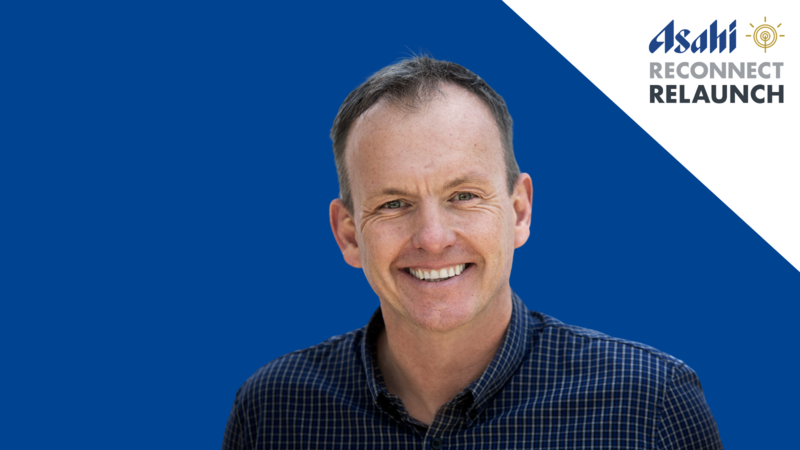 e are now seeing the green shoots of recovery with the gradual reopening of the on-trade - after a year-plus of unprecedented hardship for the hospitality industry. Whilst we of course still have reasons to be cautious about seeing this as a turning of the tide - I firmly believe that, regardless of the ups and downs that we're likely to continue seeing as we navigate this new era, we are now on the cusp of something extraordinary, exciting and unique - a once-in-generation opportunity.
This is effectively a moment to relaunch an entire sector as new – a unique moment in history to innovate, come back stronger, and create new perceptions of what we are, and can be, as an industry for each other and for consumers. This feels to me like something to jump out of bed for in the morning, alongside the potential once again to enjoy a great pint and pub dinner at the end of the day!
Here are my top six reasons to feel optimistic about the near future for our sector.
Relaunch:
Whilst we cannot say for certain that we will never see restrictions like this again, it is the first time in living memory that whole industries have come to a complete halt, with lengthy and holistic closures. By definition then, we are now uniquely in an effective launch and re-start period, and for pubs, bars and restaurants the phrase 'build-back-better' truly has a chance to be applied.
As well as welcoming back keen punters across the country, we also have an opportunity to re-shape consumer expectations of what a great hospitality experience can be, using some of the things we've learned and delivered throughout this period of adversity. The opportunity can clearly be seen in the innovation unleashed to date, from incredible at-table ordering technology and outdoor serving solutions, to hybrid takeout solutions, high-impact point of sale (POS), creative in-outlet and digital experience/gamification. Through all of this we can not only reassure consumers - but entertain, surprise and delight them too. Further to this, it also presents the potential to expand the experience for our hardworking hospitality staff, in need of a boost after this toughest of times. It opens up great potential for new skills and professional development. I truly believe we can build upon all of this and keep the momentum going.
Reconnect:
Across the two major reopenings from the UK national lockdowns we have invested more than £2.5m in our Asahi UK 'Reconnect' back-to-trade support package, based around the following:
Working in partnership with customers to create an environment and experience, which is both safe and enjoyable for consumers
Providing a combination of practical support and new innovations to make this happen; and;
Taking a flexible and bespoke approach to our service, adapting to government guidance and the needs of both customers and consumers as these evolve
One of the big focuses has been on providing a range of premium branded materials to support flexibility of service, both in-outlet and off premise. So far we've placed well over a 1,000 café barriers, 2,000 parasols, over 100,000 takeaway cups / carriers, and 200 mobile bars for secondary-serving. The feedback from customers and consumers has been incredibly positive – we hear how it's helping to make a difference and enhancing experience, so we're increasing our supply and availability of these items.
We've always had a big focus on engaging with bar staff, working directly with them and operators to understand what motivates and makes them happy in their work – answering some of this through our dedicated and varied Asahi UK training and advocacy initiatives. Customers told us that helping their staff was a fundamental part of restart planning, so we've accelerated this, offering an increased number of free modules for our 'Upwait' and 'Beer Masters' training programmes with supplier CPL. These develop a range of skills, from perfect serve and food parings, to product and brewing knowledge – all tailorable to the new times we're in, designed to enhance experiences for both staff and visitors.
Resilience:
Hospitality has arguably been the most impacted of all sectors during the pandemic, but the way it has collectively dug in has been remarkable, from navigating closures in order to safeguard businesses and jobs, to 'pivoting' operating models to deliver takeaway and other new services.
The performance of the on-trade across the first week of outdoor-only opening from 12th April showed the sector's ability to bounce-back, as well as the enduring demand from loyal consumers. With only some 35% of outlets opening that week, data showed sales on a par with the same period in 2019, which included a fully open Easter bank holiday. The indicators were also showing a substantial trade-up to premium, with world lager accounting for almost half of draught spend and generating the highest cash in the till.
At Asahi UK, we saw a huge surge in demand for our products, such as Peroni Nastro Azzurro, with our overall volume performance significantly ahead of the same period in 2019. We knew pent up demand would be there, but the figures are extraordinary nonetheless, demonstrating great consumer confidence in beer and the great British pub.
Route to Market
For the latest restart, we knew these first few weeks back would be crucial for our customers, so we put in a huge amount of advanced planning to ensure we had sufficient stock in place to meet the pent-up demand upon reopening. As well as our direct outlet delivery, we have strong and long-standing relationships with our on-trade wholesale partners. This was supported by stock-building, and a significant investment we made in new kegs for our imported and UK-based portfolio.
Looking back over the pandemic, there has been a constant need for ingenuity and adaptability in managing and keeping supply chains moving – from protecting existing stock and ensuring adequate supply at times of peak demand, to addressing the heart-wrenching issue of the removal and destruction of spoilt beer from cellars. For the latter in particular there was great collaboration across the sector to find solutions that helped to support the whole value chain – propping up venues and producers across the spectrum, large and small. It showed what we can achieve together for the sake of the sector at large.
During lockdown we all found new ways to get product out to customers and minimize wastage as best we could, including new direct-to-consumer delivery solutions. An example that we found incredibly popular was cask-at-home, creating new SKUs to give beer lovers the fresh taste of cask straight from our tanks - beer favourites such as Fuller's London Pride and ESB.
ROI:
A recent study by Oxford Economics for the British Beer & Pub Association delved into the direct and indirect impacts associated with the beer and brewery sector across the UK – demonstrating a very clear and obvious contribution to the local and national economy. In total, it showed that beer and brewery activity sustained some 556,700 jobs, £9.1 billion in wages and £19 billion of Gross value added (GVA) across the UK economy. These are compelling figures for indicating the sector's contribution, and the importance of it emerging strongly and sustainably from the pandemic.
This period has highlighted the sensitivity of draught beer – and the cask segment in particular - to events like this, but also what an amazing product it is. Cask is a quintessentially British icon and supports a huge range of sub-sectors here such as UK-based hop growers, and one that we must work hard to protect. There has been great work by the industry groups recently to highlight some of pressures facing brewers, pubs and suppliers, not least from the disproportionate burden of beer duty in the UK, and it's encouraging to see politicians proactively engaging with this issue.
Relationships
More than pure economics though, the social impact of pubs has become abundantly clear over the past year as a no less important 'ROI' of the sector. As hubs of the community, bringing people together not just to socialise, but to mark a lot of the most important moments in life, from the biggest to the smallest – weddings, anniversaries, wakes, birthdays, reunions...the list goes on. They are hugely significant in helping to combat loneliness, and act as locations and enablers for needs both personal and professional.
This period has helped people to see the massively diverse role these venues play as meaningful places for society, and why it's so important to everyone to keep supporting them - consumers, producers, governments and regulators. Asahi UK is a long-time supporter of the Long Live the Local campaign, which works brilliantly to keep this very topic front of mind for everyone, and serves as a reminder that survival for many remains on a knife-edge.
One thing I've taken with real positivity from the past year is the role our sector has played across all the communities where we operate, and society at large. At Asahi UK, we worked at a national and local level across our sites and through our colleague base to give something back during the pandemic, for example through thousands of donations of PPE and product to key workers, and match-funding charity partnerships with the likes of The National Emergencies Trust and Only a Pavement Away.
These types of actions have been widespread, and I think as a collective – across all producers and venues – we can take great pride in this. People really do rely on the sector for life experiences, a positive place to go, day-to-day good times, and livelihoods – and this has proven to be a great symbiotic relationship. Again, I believe this is something we can look to build upon in future, making purpose and community an even more central part of the hospitality story and offering going forward.