Author: Communications Team
Date: 12 06 2023 13:48
---
Peroni Nastro Azzurro 0.0% outlines bold plan to support convenience and grocery retailers for summer 2023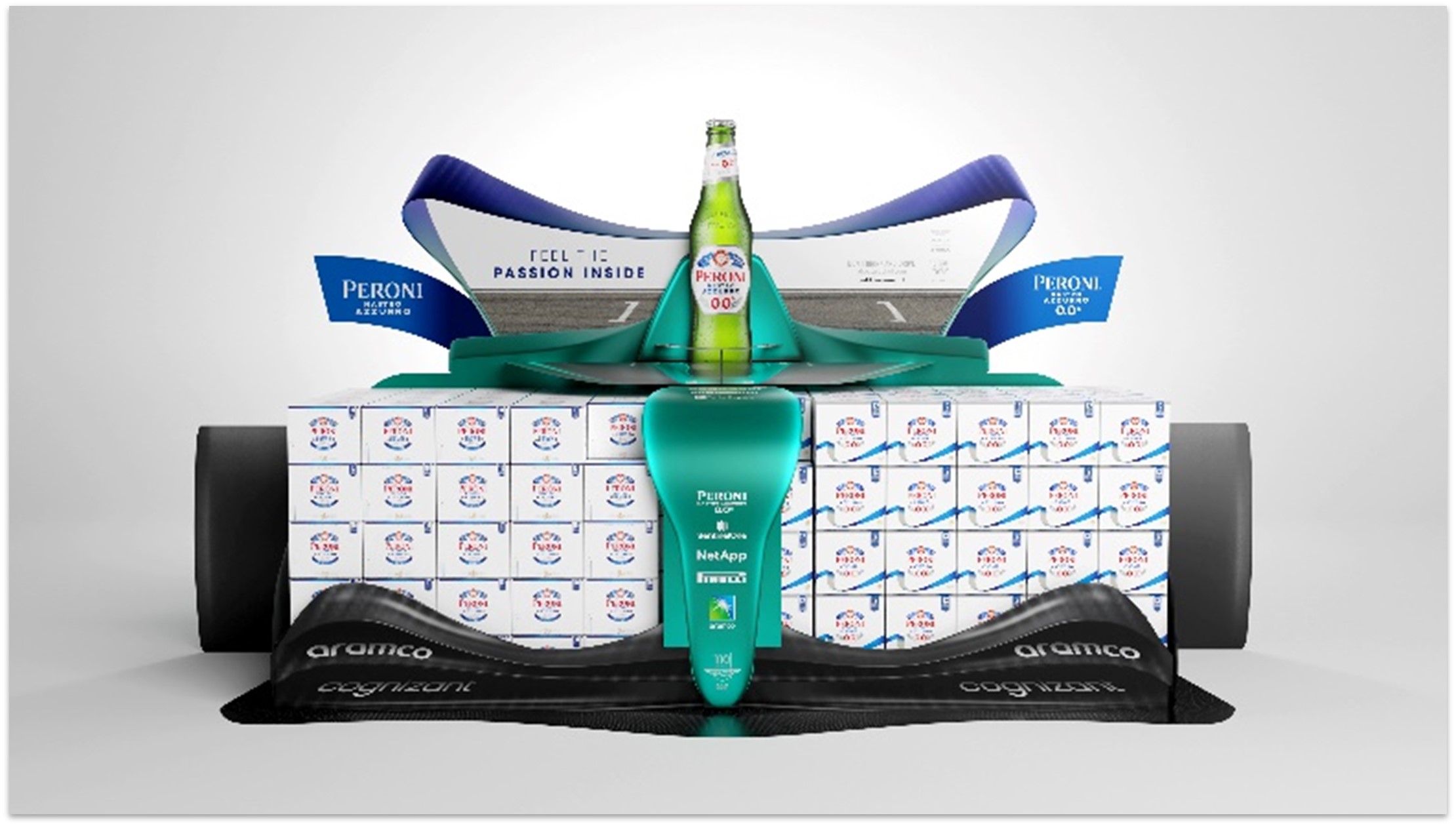 Asahi UK has unveiled details of its summer retail trade activity for Peroni Nastro Azzurro – the most loved premium lager in the UK's [Savanta Brandvue 2022] – 0.0% variety, using the exclusive partnership with Aston Martin Aramco Cognizant F1™, ahead of the British Grand Prix at Silverstone in July.
The Super Premium Italian beer brand will use displays and competitions to promote its partnership with the acclaimed Aston Martin F1™ team to drive summer sales of Peroni Nastro Azzurro 0.0%, which offers the same superior taste experience of Peroni Nastro Azzurro, with a crisp and refreshing Italian taste and 0.0% alcohol.
In July, Ocado shoppers will have a chance to win a 'track day experience for two at Silverstone' with exclusive branded merchandise across six-pack cans, 18-pack bottles, and four-pack Peroni Nastro Azzurro 0.0%. In August, Ocado shoppers will also have the chance to win one of 200 branded cool bags when they buy Peroni Nastro Azzurro six-packs and 12-pack cans – perfect for al-fresco occasions.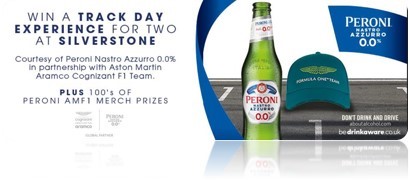 Meanwhile, 80 Asda shops will have front-of-store units, displaying a strapline 'Driven by passion', to drive awareness of Peroni Nastro Azzurro 0.0% sales of the brand from 22 June to 12 July. Thanks to its effervescent, refreshing taste and 0.0% alcohol, consumers can live every moment fully. Whether they're meeting friends at a bar, exploring sun-soaked terraces on holiday, or relishing time at home watching the full throttle fun of Formula 1™, there are no limits to when, and where, they can enjoy Peroni Nastro Azzurro 0.0%.
Sam Rhodes, Marketing Director at Asahi UK, says: "Summer is a key time for both alcoholic and no-alcohol beer. Last year, 28.8% of lager volume was sold during summer, and that number is even higher for low & no beer, with 30.6% of the volume being sold during the period[NIQ Scantrack12 we 22.04.23]. Most shoppers (75%) are willing to trade up on drinks and food for summer events[Bulbshare, 2022], so it's no surprise that over the past couple of years, premium beer[Premium + = Based on Nielsen £/L Index vs Beer of 110 and above] has benefited the most during summer, with higher share during the period (24.3% of lager) vs. the rest of the year (22.6% of lager)[NIQ Scantrack12 we 22.04.23]. Our activity across retailers will help ensure they make the most of the premium beer opportunity and drive their sales and profits at this key time."
Peroni Nastro Azzurro Stile Capri
Serving up the taste of summer since its launch in March, Peroni Nastro Azzurro Stile Capri will come into full force across multiple retailers with bespoke promotional activity in Tesco, Sainsbury's, Asda, Waitrose, Morrisons, Booker and Ocado with its refreshingly light, premium lager offering.
Tesco will drive sales with off-fixture displays for Stile Capri 10-packs in more than 500 stores nationwide and the brand will be featured in its upcoming summer magazine issue – reaching 6 million readers with a money-off redemption to trial the new brand inspired by the taste and scents of Capri, an island in Italy's Bay of Naples.
Sainsbury's branches across the UK will carry bespoke 10-pack displays with Nectar price savings, and host in-store sampling in more than 50 stores of both Peroni Nastro Azzurro 0.0% and Peroni Nastro Azzurro Stile Capri. Similarly, Asda will also have sampling activity within its branches at the end of June (24th and 25th), with Morrisons hosting dual-branded displays for six weeks from July 2023.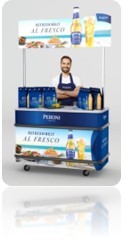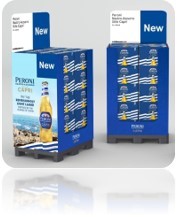 Within convenience, the Peroni Nastro Azzurro portfolio will carry significant presence across Booker Wholesale with advertising in Catering@Booker magazine, Food & Drink Guide and retail magazine Talking Shop, as well as digital support.
Sam Rhodes, Marketing Director, Asahi UK, said: "Peroni Nastro Azzurro Stile Capri represents a significant milestone for us and the sector – bringing an exciting and innovative new beer to the market, which is refreshingly light, matching perfectly to multiple occasions. Launching under the instantly recognisable and much-loved Peroni Nastro Azzurro brand portfolio, Peroni Nastro Azzurro Stile Capri is a strong proposition for all operators and retailers to gain value from the high-potential and lucrative sunshine beer category. Previous growth has been achieved in this segment through larger packs and offers in stores, which can drive down prices. We believe that by launching an exceptional new option in this space, under a premium brand, we can help drive improved value sales by attracting a younger consumer and broadening the appeal of the category during a peak period for beer sales."
Perfectly presented to drive an opportunity among a younger consumer and beer drinker, retailers can benefit from the launch by driving consumers to trade up within the category, making Peroni Nastro Azzurro Stile Capri the must stock of the summer.
ENDS
NOTES TO EDITORS
About Peroni Nastro Azzurro
Peroni Nastro Azzurro exemplifies the traditions of Italian craftsmanship, passion, and flair. Born in Rome, 1963, Birra Peroni brewed what was to become their greatest and most famous export: Peroni Nastro Azzurro. The No 1 Premium Italian Beer Brand Globally, Peroni Nastro Azzurro is gently brewed for an effervescent, refreshing, and crisp taste that's full of life.
About Asahi UK
Asahi UK is a subsidiary of Asahi Europe & International and is responsible for sales, marketing and customer operations across the UK and Ireland. Though the portfolio of Super Premium Beer brands, Asahi UK enriches consumer experiences through innovation, high-quality service and an exceptional portfolio of premium beer, ale and cider brands which include Peroni Nastro Azzurro (PNA), Asahi Super Dry (ASD), Meantime, Fuller's London Pride and Cornish Orchards. The Woking based business is focused on developing quality, super premium brands and delivering commercial value in the marketplace, through a strong belief in collaboration, customer excellence and people development.