Author: Communications Team
Date: 20 04 2022 09:02
---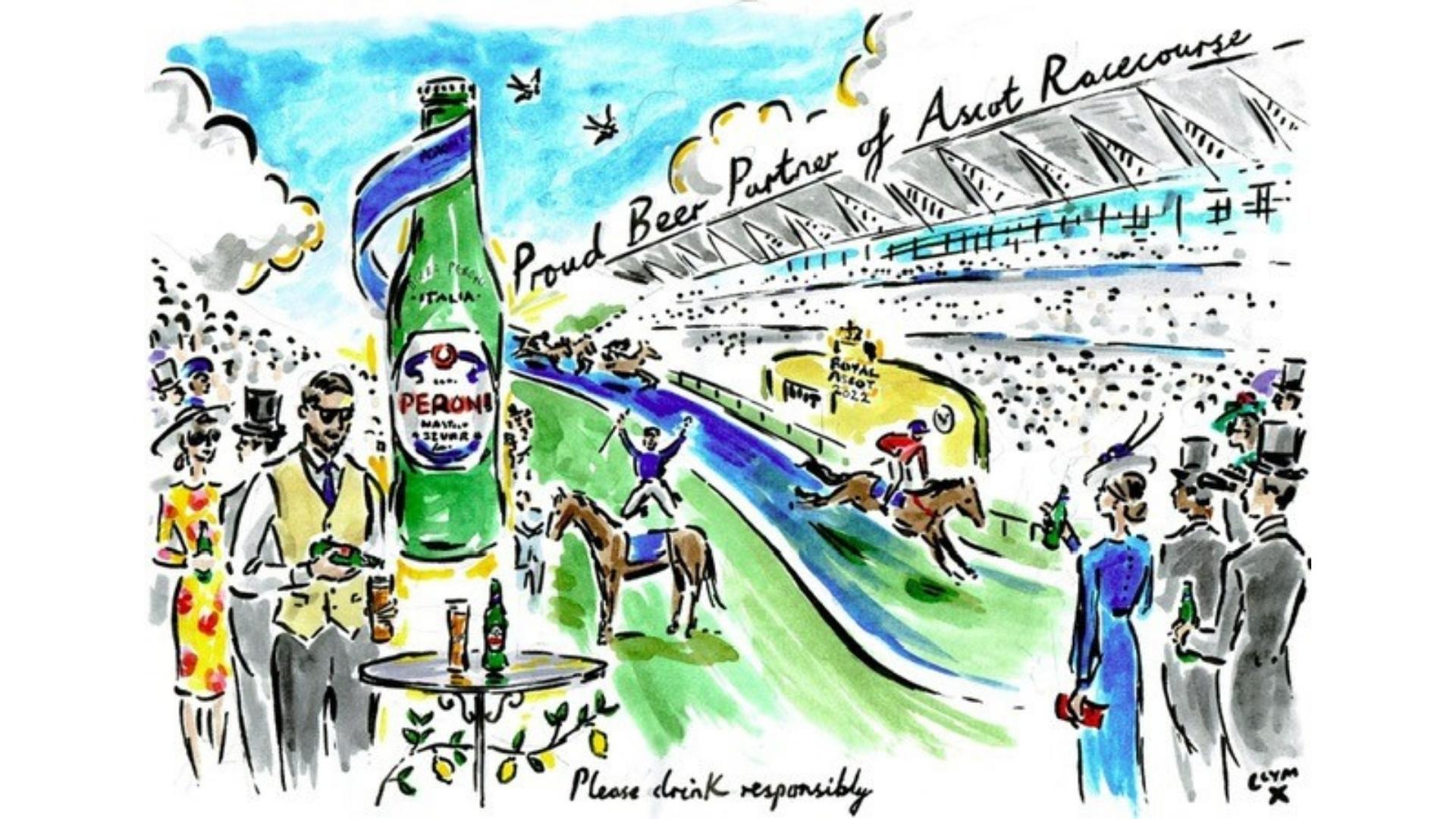 Super Premium Italian beer brand, Peroni Nastro Azzurro today announces a landmark sponsorship with Ascot Racecourse in Berkshire. The agreement will see the popular Italian beer become 'The Official Beer of Ascot Racecourse' reinforcing the brand's premium heritage at the home of some of the most prestigious race meetings in horse racing.

To celebrate this five-year sponsorship Peroni Nastro Azzurro have teamed up with three-time Champion Jockey, Frankie Dettori, who has ridden the winners of more than 500 Group races. The Champion Italian Jockey has been featured in a piece of art created by award-winning artist and art director, Clym Evernden, in one of his signature ink-based designs. The artwork vividly captures a day at Royal Ascot, showcasing the passion, style, glamour, and top-class horse racing that make this event the jewel in the crown of British racing.
Commenting on the experience, Frankie Dettori said: "I have so many great memories over the years racing at Royal Ascot where I have built a fantastic connection with the fans. Royal Ascot and Peroni Nastro Azzurro embody passion and style, so It's been a lot of fun working with Peroni Nastro Azzurro and Clym on bringing a touch of Italy to a landmark of the British summer. Hopefully lots of fans can take the time in between the racing to go and see the piece of art inside the House of Peroni at Royal Ascot this summer"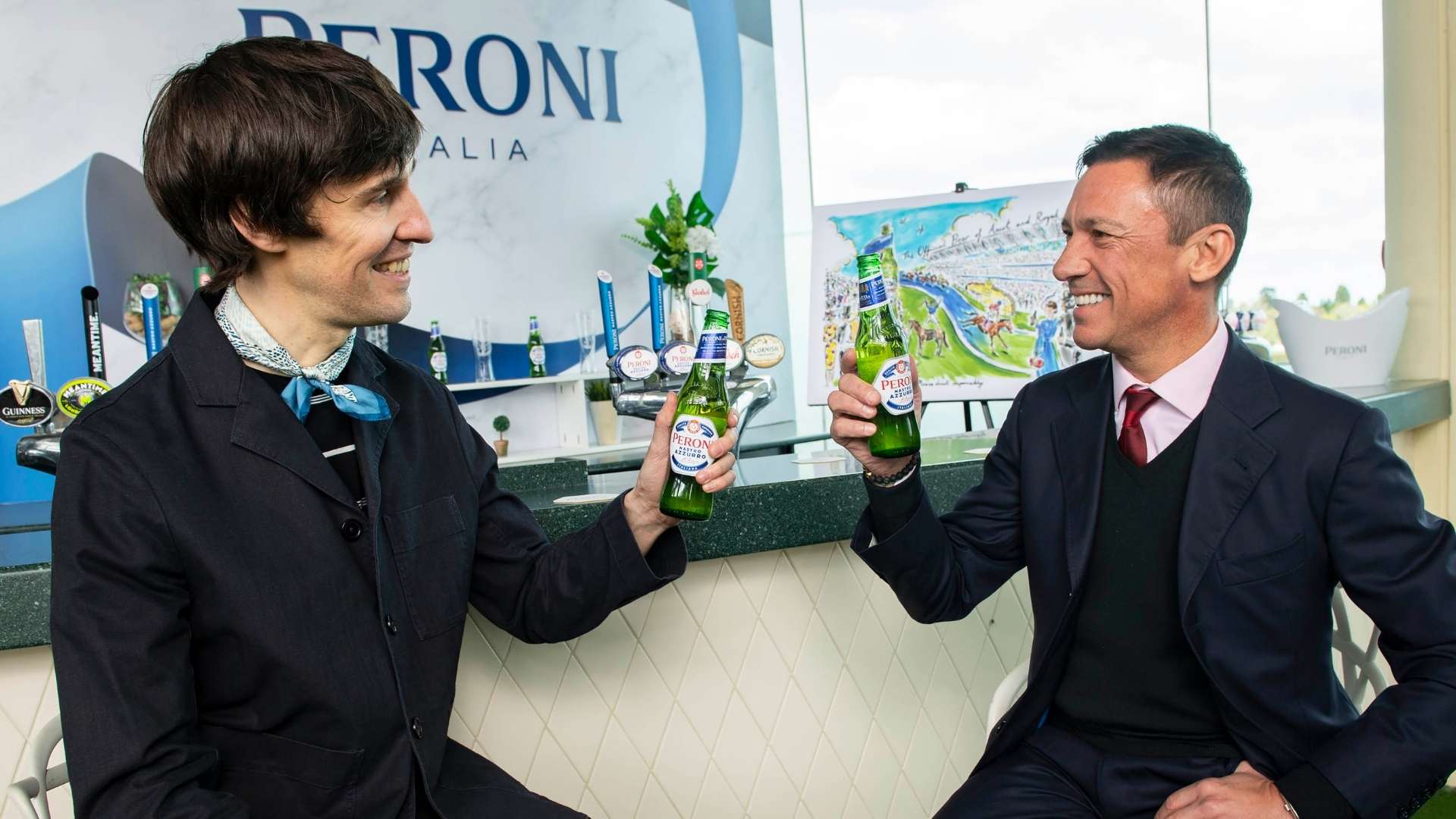 The artwork will take centre stage during the iconic Royal Ascot meet in June where racegoers will have the opportunity to take a break from the action-packed day and relax in the House of Peroni, located in the Village Enclosure situated in the centre of the race track. The House of Peroni will pay tribute to the brands Italian heritage with a Mediterranean-inspired Aperitivo Bar which will proudly display Clym Evernden's Royal Ascot artwork, further elevating the experience of those in attendance.
Renowned artist, Clym Evernden said: "Royal Ascot is such a huge part of the British summer. It's been fun delving into what makes it such a special event for so many while adding a touch of Italian style. It's been a pleasure working on this project with one of the all-time sporting greats. Frankie is one of those athletes that transcends his sport with his infectious character and charisma which I have looked to capture in this piece."
In addition to the Apertivo Bar, Peroni Nastro Azzurro will also be poured at Royal Ascot restaurants and bars and will be listed on private box menus and as part of the package within the Parade Ring Restaurant for the duration of Royal Ascot.
Tim Clay, Asahi UK, Managing Director said: "Over the past 300 years, Ascot Racecourse has established itself as one of the most prominent sporting venues in the world, with Royal Ascot becoming a centrepiece of the British social calendar and the ultimate stage for some of the best racehorses in the world. Ascot and Peroni Nastro Azzurro both have a rich history behind them and a very bright future ahead in their respective fields. We're delighted to be embarking on this sponsorship journey together, and excited in helping to create memorable moments for fans of live racing at Ascot this summer and beyond."
Felicity Barnard, Ascot Racecourse, Commercial Director said: "We are thrilled to welcome Peroni Nastro Azzurro to the Ascot and Royal Ascot family. This sponsorship is another boost to the return of spectators inside sporting venues, and we look forward to many people enjoying a Peroni Nastro Azzurro. We hope to create a long-standing legacy together that will have passion at its very heart."
As well as Peroni Nastro Azzurro, racegoers will be able to experience other premium beers from the Asahi portfolio including, Asahi Super Dry, Grolsch, Cornish Orchards Gold Cider, Meantime and Fuller's London Pride.
The drama of Royal Ascot returns on Tuesday 14th – Saturday 18th June, promising to be one of the social occasions of the Summer.
ENDS
About Asahi UK
Asahi UK is home to an exceptional portfolio of premium beer, ale and cider brands, including category leaders in the UK. The range includes international brands Peroni Nastro Azzurro, the No.1 Super Premium lager in the UK with every drop brewed in Italy; Japan's No.1 beer, Asahi Super Dry and the iconic Dutch premium beer, Grolsch. A portfolio to be envied which also includes local heroes: Fuller's London Pride, Meantime, Dark Star and Cornish Orchards. Asahi UK's focus is on enriching experiences for our customers and consumers through innovation, unrivalled service and offering brands with undeniable quality and provenance.
Asahi UK believes that every business has a responsibility to understand and act upon its environmental impact and we continuously work towards sharing more information with our suppliers, customers and consumers about both the footprint of our beers, and how we are working to reduce it. Our place in the local community is highly valued and we strive to ensure that we are always making a positive contribution to the communities in and around our UK Breweries. For more information on Asahi UK and parent organisation, Asahi Europe & International visit www.asahibeer.co.uk.
About Ascot Racecourse
Ascot Racecourse was founded in 1711 by Queen Anne who saw the land had potential for horseracing. Royal Ascot in June is an occasion like no other in the sporting calendar. While its five days of flat racing attracts entries from around the world and is demonstrably a celebration of horseracing at its very best, it is also a social occasion like no other, steeped in history and synonymous with pageantry and style. On each of the five race days, The Queen arrives by Royal Procession along the racecourse with her guests, in full view of the 300,000 weekly spectators. At the heart of Royal Ascot is the Royal Enclosure which dates back to 1807 and the reign of George III. Within this area, a dress code of morning dress for men and formal day wear for ladies applies. For more information visit: www.ascot.co.uk
To book tickets visit www.ascot.co.uk or call 0844 346 3000.