Author: Communications Team
Date: 01 04 2022 09:20
---

Introducing Peroni Nastro Azzurro 0.0%
Super Premium Italian brand, Peroni Nastro Azzurro launches new 0.0% alcohol-free brand, offering the same crisp, refreshing taste and superior Italian quality as Peroni Nastro Azzurro
New Peroni Nastro Azzurro 0.0% offers the same superior taste experience of Peroni Nastro Azzurro, with a crisp and uplifting Italian taste and 0.0% alcohol.
Latest category innovation is driven by consumer demand, with 1 in 3 UK adults moderating alcohol intake and seeking a premium choice with an expectation of high quality and experience (Alcohol Change UK).
Launch of Peroni Nastro Azzurro 0.0% will be supported by a fully integrated marketing campaign.
Peroni Nastro Azzurro 0.0% will be available in UK & Ireland from April 2022 and launches across 28 countries worldwide.
New addition to Super Premium portfolio marks an important step towards Asahi Legacy 2030 initiative, to have non-alcoholic products make up 20% of Asahi Europe & International's portfolio.
Number 1. Super Premium Italian beer brand, Peroni Nastro Azzurro is proud to announce the arrival of Peroni Nastro Azzurro 0.0%, a brand-new alcohol-free variant to its iconic portfolio from April 2022.
Peroni Nastro Azzurro 0.0% will be instantly recognisable as it is crafted with superior Italian ingredients including the signature Nostrano dell'Isola maize – grown exclusively for Peroni Nastro Azzurro in the north of Italy – to create the same uplifting Italian taste, with 0.0% alcohol. Consumer testing revealed that 90% of tasters felt the flavour matched that of Peroni Nastro Azzurro and its high-quality taste was noted by 92% of the panel (Concept Product Research MMR).
Birra Peroni implemented brand new technology in its Rome brewery to enable Peroni Nastro Azzurro 0.0% to match the flavour profile of signature beer, Peroni Nastro Azzurro, which has been brewing with Italian passion and flair since 1963. This new technology allows the signature base recipe and ingredients of Peroni Nastro Azzurro to be used, and only after the characteristic aroma and taste profile of Peroni Nastro Azzurro is fully developed, is the alcohol gently removed to deliver the crisp and refreshing Italian taste.
The trend of drinking beer is changing, with 1 in 3 UK adults now actively moderating their alcohol intake and 2 in 3 looking to lead a healthier lifestyle (Alcohol Change UK), Peroni Nastro Azzurro 0.0% responds to consumer demand and aims to serve occasions and social moments where beer lovers are seeking a superior tasting alcohol-free beer with 0.0% alcohol. Thanks to its effervescent, refreshing taste and 0.0% alcohol, consumers can live every moment fully. Whether they're meeting friends at a bar, exploring sun-soaked streets on holiday, or relishing time at home watching full throttle fun of Formula 1™, there are no limits to when, and where, they can enjoy Peroni Nastro Azzurro 0.0%.
To support the launch in the UK, an integrated marketing campaign will launch on 14 April 2022, showcasing the superior Italian taste of Peroni Nastro Azzurro 0.0% via an impactful creative across TV, VOD, Social, and BTL activations across On and Off Trade outlets.
The 'Tutti I Momenti' TVC lives under the brand's new 'Live Every Moment' creative platform and was filmed in the beautiful ancient coastal city of Ortigia, Sicily by world-renowned film director Greg Ohrel, famous for his mesmerizing music videos and production of 'Open Sicily' for Averna. 'Tutti I Momenti' heroes a character, Gian Marco, taking a journey through a small Italian town inspiring everyone he meets along the way to Live Every Moment.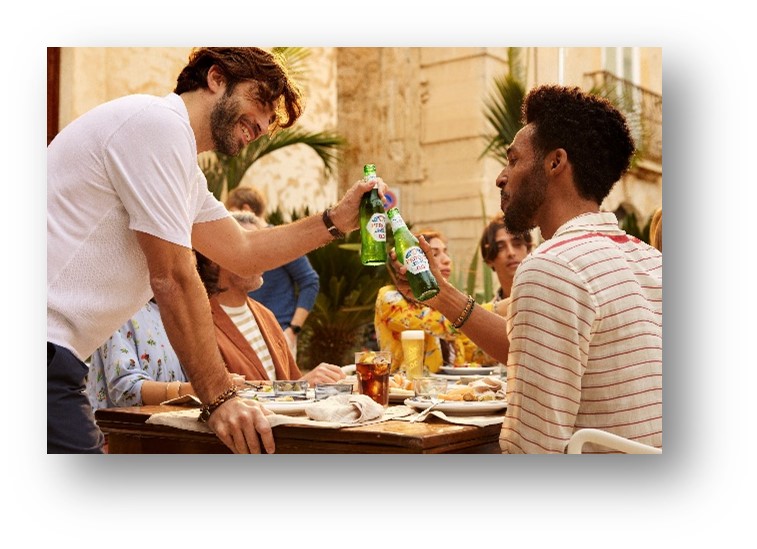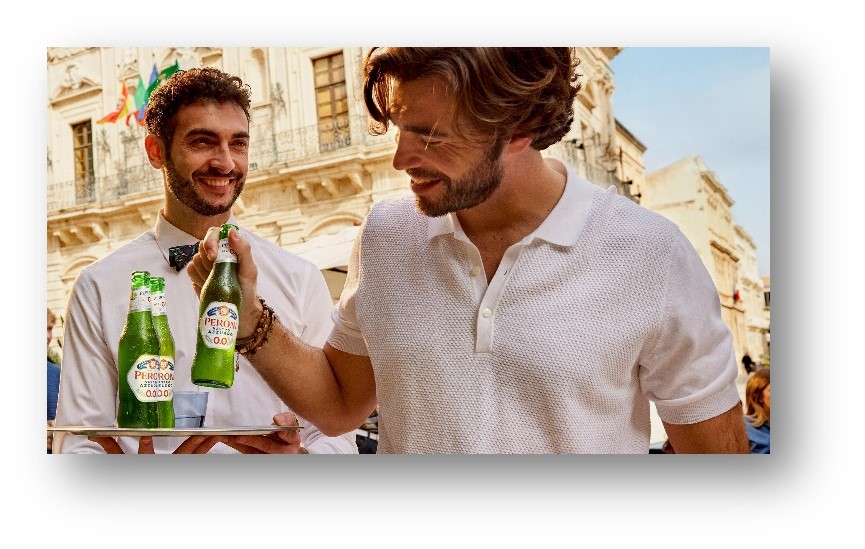 The all-new alcohol-free beer will also appear on the Aston Martin Aramco Cognizant Formula One™️ Team race car. The multi-year partnership between Peroni Nastro Azzurro 0.0% and the British based Formula One™️ Team is now in its second year.
Peroni Nastro Azzurro 0.0% will replace Peroni Libera 0.0% across the car and all team kit, with the all-new 0.0% beer set to be served at prestigious events across the global Formula One™️ calendar including in the AMF1™ Team motorhome at most Grands Prix and across a number of stylish city centre activations throughout Europe aimed at engaging new and current consumers. The partnership with Aston Martin Aramco Cognizant Formula One™️ Team continues to play a key role in the ambitions of the Peroni brand's parent company, Asahi Europe & International, to have 20% share of their portfolio dedicated to non-alcoholic products by 2030.
Sam Rhodes, Marketing Director at Asahi UK comments: "Drinking a low or no alcohol product should not involve compromising in any-way. We're so proud of what Peroni Nastro Azzurro 0.0% brings to the market and how it enhances the moment for consumers – an alcohol-free beer option with an Italian flair – superior flavour and quality taste.
"We know that people are increasingly opting for low and no alcohol options as part of a balanced lifestyle when socialising in and outside of home. With its refreshing taste, people can truly live every moment – no matter where they are, what occasion it is or time of day, without compromise."
Peroni Nastro Azzurro 0.0% will be available nationwide across UK and Ireland from April 2022.
ENDS
NOTES TO EDITORS
For further information on Peroni Nastro Azzurro and Peroni Nastro Azzurro 0.0% please contact:
• Shoma Amin at Asahi UK – Shoma.Amin@asahibeer.co.uk +44 7788 345 806
• Splendid Communications – peroni@splendidcomms.com +44 207 553 7300
Product information:
• Peroni Nastro Azzurro 0.0% is available in 330ml glass bottles, and 330ml cans.
• It is available to buy individually, and in multipacks of x4 (bottles), x12 (bottles), x24 (bottles) and x6 (cans).
UK supermarket stockists:
• Available nationwide across all major retailers from April 2022.
On trade stockists:
• Available in Mitchell & Butlers, Greene King, Young's, Darwin & Wallace, Oakman Inns and other venues across the UK from April 2022.
About Peroni Nastro Azzurro
Brewed in Italy to the original recipe since 1963, Peroni Nastro Azzurro exemplifies the traditions of Italian craftsmanship, passion and flair. Born in Rome, 1963, Birra Peroni brewed what was to become their greatest and most famous export: Peroni Nastro Azzurro. The No 1 Premium Italian Beer Brand Globally, Peroni Nastro Azzurro is gently brewed for an effervescent, refreshing, and crisp taste that's full of life.
About Asahi UK
Asahi UK is a subsidiary of Asahi Europe & International and is responsible for sales, marketing and customer operations across the UK and Ireland. Though the portfolio of Super Premium Beer brands, Asahi UK enriches consumer experiences through innovation, high-quality service and an exceptional portfolio of premium beer, ale and cider brands which include Peroni Nastro Azzurro (PNA), Asahi Super Dry (ASD), Meantime, Fuller's London Pride and Cornish Orchards. The Woking based business is focused on developing quality, super premium brands and delivering commercial value in the marketplace, through a strong belief in collaboration, customer excellence and people development.
About Asahi Europe & International
Asahi Europe & International is the international branch of Asahi Group Holdings, a global beverage and food company listed on the Tokyo Stock Exchange, Japan. It is the outcome of years of acquisitions, which allowed Asahi Group Holdings, a traditional Japanese producer of beer, whiskey, and wide range of food products, to establish and strengthen its business in Europe and around the globe. As of 2020, the business is established under the Asahi Europe and International organization headquartered in Prague, Czech Republic. Building on centuries of European brewing heritage, the business runs 19 production facilities in 8 countries across Europe, and is the custodian of some of the best beer brands in the world, including Asahi Super Dry, Pilsner Urquell, Peroni Nastro Azzurro, Grolsch and Kozel. Within the Asahi Group, the remit of Asahi Europe and International is also to develop and manage all export markets globally, outside of Japan and Oceania. Covering 90 markets and with over 10,000 passionate colleagues on board, the business is well positioned to inspire people around the world to drink better.