Author: Communications Team
Date: 22 12 2021 11:01
---

The award-winning premium ale joins forces with the prestigious competition ahead of the all-important festive fixtures, helping fans to support with pride
PREMIERSHIP RUGBY can today announce a multi-year partnership with Fuller's London Pride. The agreement will see Fuller's London Pride become the Official Beer of Premiership Rugby, reinforcing the brand's heritage with rugby; from supporting the game's grassroots community clubs up to the elite level, and as an iconic ale enjoyed by fans and players alike for generations.
Fuller's London Pride launched the partnership today with the help of Harlequins scrum-half, Danny Care. The former England player has made 307 appearances in the top-flight of English Rugby, scoring more than 400 points. Care, 34, whose Twickenham Stoop home ground is just a few miles away from the home of Fuller's London Pride, the Griffin Brewery in Chiswick, was given a tour by head brewer Guy Stewart to see first-hand how the iconic ale is created.
As well as now being the Official Beer of Premiership Rugby, Fuller's London Pride is also the current beer partner for the British & Irish Lions, and it will look to continue being the preferred beer of the fans across the seasons ahead.
Mark Brittain, Chief Commercial Officer of Premiership Rugby, said: "We're proud and excited to welcome Fuller's London Pride as the Official Beer of Premiership Rugby. It's an exciting time of the Gallagher Premiership Rugby season with friends and family heading home for the festive fixtures. The partnership provides unique Premiership Rugby offers, experiences and rewards to fans up and down the country and helps us create new and exciting experiences at the Gallagher Premiership Rugby final.

As the fans continue to drive this prestigious competition to new heights, we look forward to working alongside Fuller's London Pride rewarding the rugby community with experiences to remember."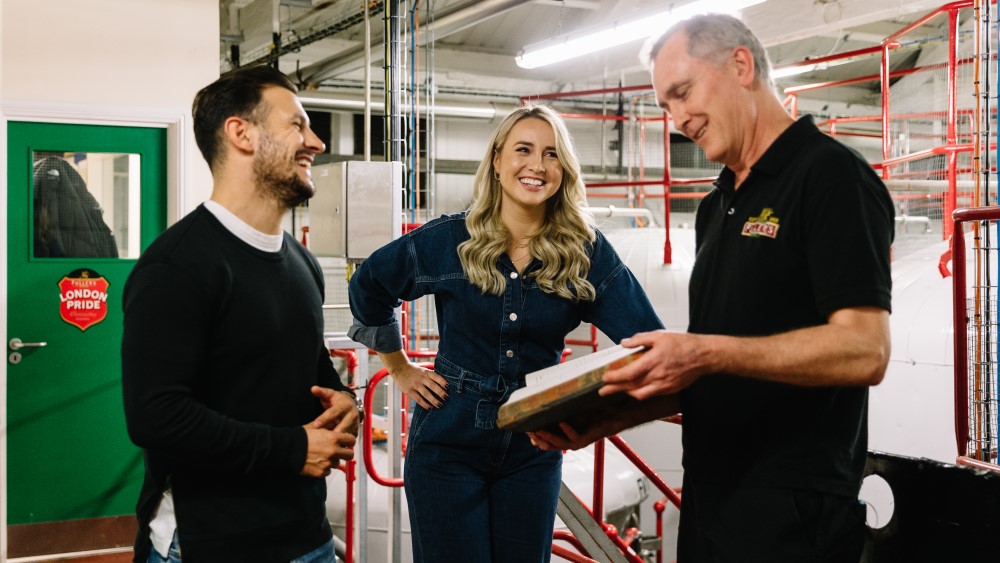 Sam Rhodes, Marketing Director, Asahi UK, said: "Fuller's London Pride is synonymous with rugby, not just in the capital but across the country and beyond - pouring in community clubhouses and stadia alike. We took this to a new level with the launch of our successful British & Irish Lions partnership this summer, and we're immensely excited and proud to be doing this once again as the Official Beer of Premiership Rugby. Top tier rugby in England is of the very highest standard, based on the principles of skill, dedication and fun, and our values align with such traditions. Fans – now more than ever – are desperate for live sport and together we hope we can maximise their experience on and around match day."
- ENDS –
Notes to Editors
About Fuller's London Pride
Not just the iconic ale of the capital, London Pride is an all-British affair that unites a nation of beer drinkers using entirely home-grown malt and hop varieties that give Pride its inimitable taste and depth of flavour. The authentic beer has been brewed by the Fuller's Griffin Brewery in Chiswick since 1959, named after the 'London Pride' flower that survived in the rubble of war-time London. London Pride is owned and distributed by Asahi Group Holdings, one of the world's leading drinks companies, who acquired the brand in 2019.
About Asahi
Asahi UK is home to an exceptional portfolio of premium beer, ale, and cider brands, including category leaders in the UK. The range includes international brands Peroni Nastro Azzurro, the No.1 Super Premium lager in the UK with every drop brewed in Italy; Japan's No.1 beer, Asahi Super Dry, encouraging consumers to discover the taste of Karakuchi; and the recently relaunched firm favourite for the UK, Grolsch.
A portfolio to be envied which also includes local heroes: Fuller's London Pride, Meantime, Dark Star and Cornish Orchards. Asahi UK's focus is on elevating experiences for our customers and consumers through innovation, unrivalled service and offering brands with undeniable quality and provenance.
Asahi UK believes that every business has a responsibility to understand and act upon its environmental impact and we continuously work towards sharing more information with our suppliers, customers and consumers about both the footprint of our beers, and how we are working to reduce it.
Our place in the local community is highly valued and we strive to ensure that we are always making a positive contribution to the communities in and around our UK Breweries.
For more information on Asahi UK and parent organisation, Asahi Europe International visit www.asahibeer.co.uk.