Author: Communications Team
Date: 14 06 2021 00:00
---
Asahi UK today announces its entry into the Hard Seltzer category with the arrival of a fresh new Viper Hard Seltzer (4%ABV) to complement its portfolio of Super Premium Beer and Cider brands. Brewed in Pilsen and made with the purest spring water, new Viper Hard Seltzer delivers a refreshing and smooth-tasting Hard Seltzer to enjoy on the move or at home. Available from June 2021, the latest addition to the Asahi UK portfolio is available in two flavour variants - Lime, and, Cranberry, in 330ml single can and bottle formats.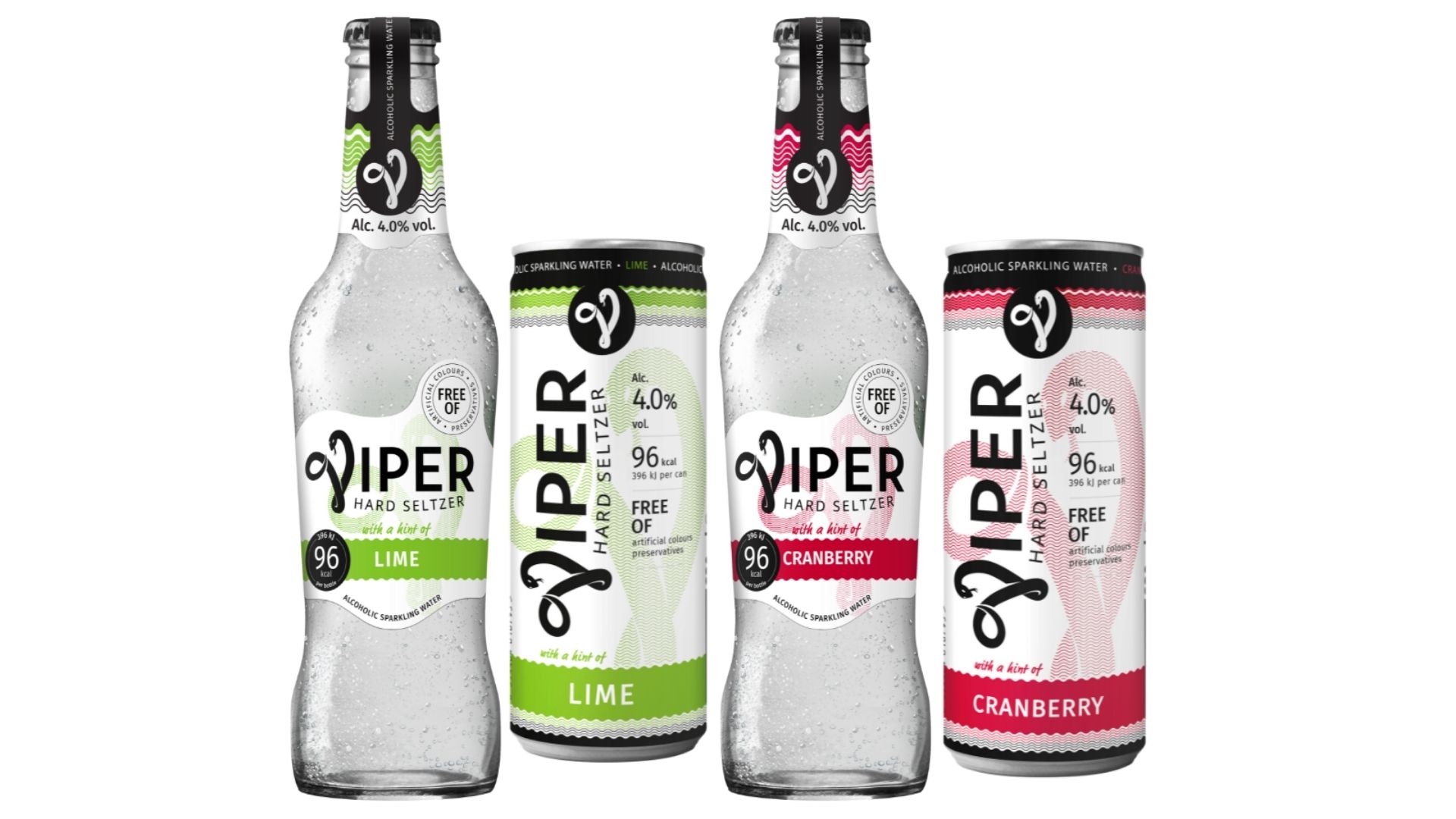 The launch of Viper Hard Seltzer will be supported by an experimental sampling campaign, as well as activation at consumer events and festivals nationwide. Taking the Hard Seltzer trend head on, Viper Hard Seltzer responds to the needs of consumers today, who are looking for an alcoholic beverage with a crisp and refreshing taste which can be consumed for outdoor and at-home social occasions.
With no artificial sweeteners, colours or preservatives, Viper Hard Seltzer is brewed with water pumped from 100m below sea level and experiences a six-day brewing process to create a Hard Seltzer with a crystal-clear appearance – delivering a unique refreshing taste with a bite of alcohol. With 96Kcal per serve, Viper Hard Seltzer offers a premium option within this category whilst catering to consumers looking to make more balanced choices when selecting an alcohol beverage. Available in both can and bottle formats, the packaging design has performed well during consumer testing, scoring a 75% in consumption intent [1], and the bottle SKU offers a convenient twist off cap.
Emerging from the US, Hard Seltzers are currently worth approximately £10.4M in the UK [2] and are forecast to grow by 34% by 2024 [3]. Coupled with the recent explosion of the Ready-To-Drink (RTD) category and 13.7M UK consumers being open to trying Hard Seltzers [4], there is a prime opportunity for licensees to capitalise on the category.
Sam Rhodes, Marketing Director Asahi UK, comments:

"As a business we have a proven track record for building market-leading brands and we are dedicated to always offering beverages with premium quality credentials. Entering the vibrant Hard Seltzer category is a really exciting move for us, and we're proud to introduce a Hard Seltzer that not only offers quality, demonstrated through the brewing process, but it also allows us to continue to offer products to our customers that are in line with consumer trends."
ENDS
References:
1 - Top 2 Box Scores for All Parameters have been compared
2- Nielsen data MAT to 15.5.2021
3 - IWSR 2020 The Future of RTDs report, published in Q4 c20
4 - Source P Montgomery CGA
Notes to Editors
Off Trade RRP £2.20
On Trade RRP £4.50
About Asahi UK
Asahi UK is a subsidiary of Asahi Europe & International Ltd and is responsible for sales, marketing and customer operations across the UK and Ireland. Asahi UK aims to enrich consumer experiences through innovation, high-quality service and an exceptional portfolio of premium beer, ale and cider brands including, Peroni Nastro Azzurro, Asahi Super Dry, Meantime, Fuller's London Pride, Dark Star and Cornish Orchards. The Woking based business is focused on developing quality, super premium brands and delivering commercial value in the marketplace, through a strong belief in collaboration, customer excellence and people development. For further information, visit www.asahibeer.co.uk