Author: Communications Team
Date: 08 09 2022 09:00
---
- Asahi Super Dry is Official Beer of Rugby World Cup 2023 and one of six Worldwide Partners
- Fans set to be rewarded with ticket giveaways and Beyond Expected experiences in France
- Japan's Number 1 Beer will be showcased to a global audience of over 857 million rugby fans across 200 countries world-wide
- Asahi Super Dry Packaged is the fastest growing Packaged Lager Brand in the On Trade contributing £1.9M to the lager Category (CGA On Trade data w/e 16.07.22)
- Asahi Super Dry is the 9th Largest Premium+ Lager brand in the Off Trade and has grown faster over 2 years than all others (Nielsen Total Coverage MAT data to 20.08.22)
Asahi Super Dry, Official Beer of Rugby World Cup 2023, is celebrating "one year to go" by finalising plans to provide fans with Beyond Expected experiences both at the tournament and at home.
Japan's Number 1 Beer (ASD) will be served at all tournament venues and fan-zones across France, spanning 48 matches in 9 cities. As well as enjoying the premium super dry taste, fans from around the world will be rewarded with ticket giveaways and exclusive match day experiences at every game, including behind the scenes stadium tours and pitch-side access to watch teams sing their national anthems.
As excitement builds ahead of the big kick-off, Asahi Super Dry will produce limited edition Rugby World Cup 2023 cans and bottles. In addition, there will be promotional packs where consumers can win amazing prizes, such as tickets to matches, unique experiences and limited-edition merchandise - which is also set to be available for purchase.
Association with the tournament will be further promoted as part of Asahi Super Dry's "Beyond Expected" through the line communication campaign, activated across key global markets.
The partnership with Rugby World Cup 2023 plays a key role in the ambition of Asahi Super Dry's parent company, Asahi Group Holdings, Ltd to expand the sales of Global Premium Brands Asahi Super Dry and Peroni Nastro Azzurro.

Jonathan Norman, Global Brands Director at Asahi UK said:
We're incredibly excited with a year to go until the big kick-off and delighted to have a partner who shares our ambition to create memorable moments for fans around the world. The plans we're putting in place are unique to Asahi Super Dry and we can't wait to showcase them to a global audience of over 857 million rugby fans across 200 countries. Important to mention the 500,000 fans travelling to France who will attend the tournament, many of whom will taste the unique Super Dry taste for the first time, we hope to exceed their expectations."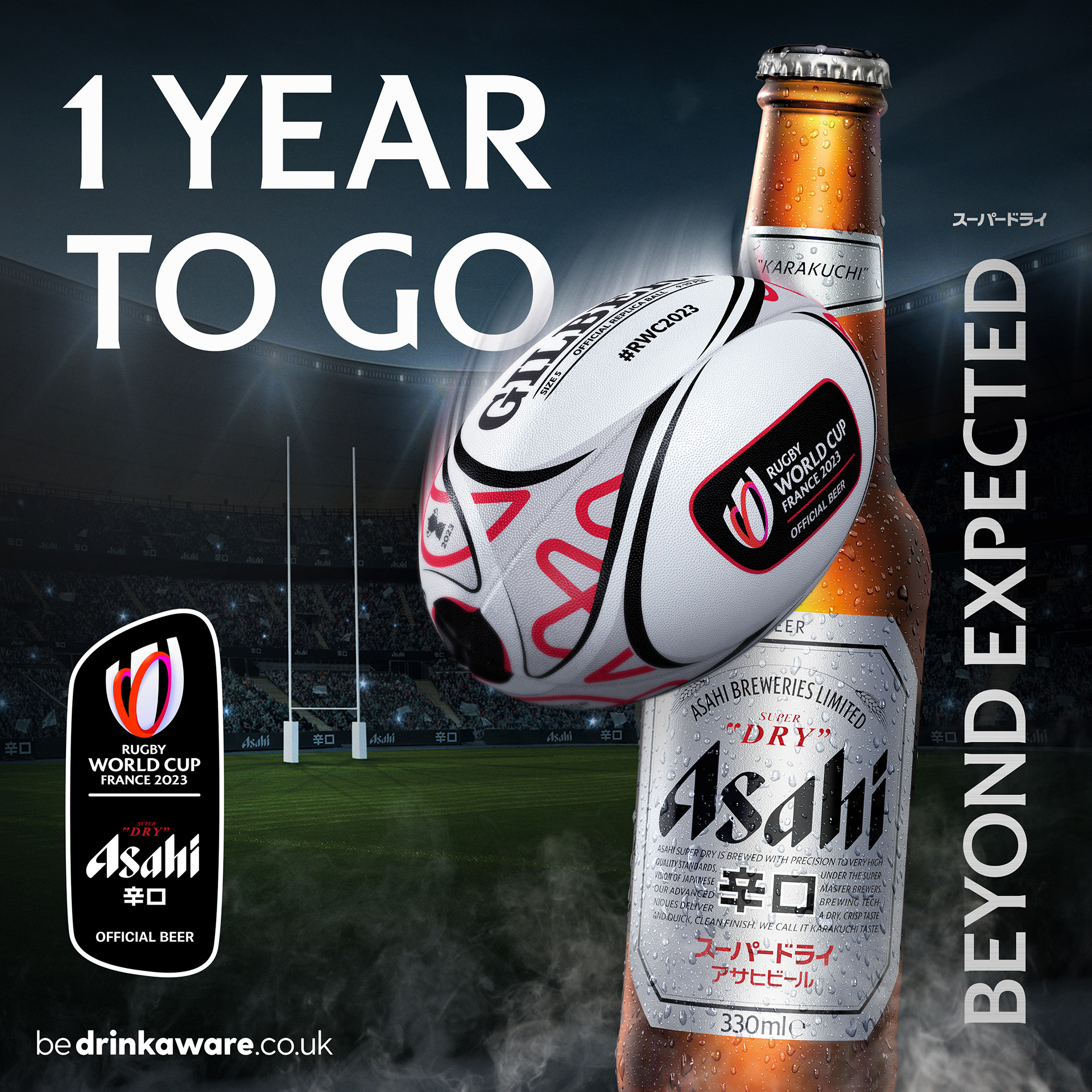 -
About Asahi UK
Asahi UK is a subsidiary of Asahi Europe & International and is responsible for sales, marketing and customer operations across the UK and Ireland. Though the portfolio of Super Premium Beer brands, Asahi UK enriches consumer experiences through innovation, high-quality service and an exceptional portfolio of premium beer, ale and cider brands which include Peroni Castro Azzurro (PNA), Asahi Super Dry (ASD), Meantime, Fuller's London Pride and Cornish Orchards. The Working based business is focused on developing quality, super premium brands and delivering commercial value in the marketplace, through a strong belief in collaboration, customer excellence and people development.

About Rugby World Cup France 2023
Rugby World Cup 2023 will take place in France from 8 September-28 October. The tournament will be the 10th men's Rugby World Cup and the second to be hosted by France after a memorable event in 2007.
RWC 2023 will take place in a year when the sport celebrates 200 years since Rugby School pupil William Webb Ellis was credited with inventing the game of rugby football by showing "a fine disregard for the rules" in catching the ball and running with it in 1823.
RWC 2023 will set new standards in social responsibility, inclusion and sustainability for a major rugby event, targeting five key pillars for the tournament's legacy: acting for sustainability and circular economy, supporting education, training and employment, respecting and protecting the environment, promoting inclusivity and being a champion for gender equality.
Contract Details: Rugby World Cup 2023 France
Organisation: World Rugby
Host Country: France
Tournament Period: September 8, 2023 (Fri) ~ October 28, 2023 (Sat) *Local time
Participating Countries: 20 Countries
South Africa, England, Wales, New Zealand, Japan, France, Australia, Ireland, Scotland, Italy, Argentina, Fiji, Georgia, Namibia, Samoa, Tonga, Romania, Uruguay, Chile
*Remaining country will be determined by qualification matches